I saw snippet of Matt Lauer's interview with Lohan this morning. Doesn't look too riveting, unfortunately. She's claims to be sober for 'awhile now' and said she definitely should not be compared to Whitney Houston or the path she went down....
I always thought of a comeback as this great reinvigoration of a person or their career. Uhh, seems like we're missing at least one, in this case. For starters, I might suggest getting rid of the overly bleached platinum locks and pasty complexion. If anyone knows the value of a good spray tan it's (used to be, anyways) Miss Lohan.
What happened to this adorable girl?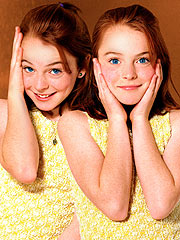 In the peak of her career, I might add.
What's for dinner tonight?
Chicken Pesto Paninis.
I'm kind of winging the recipe. So, we'll see how it all turns out. Regardless, I'm looking forward to a change-up from our regular weekday eats!