Happy Saturday! This is my favorite day of the week (when I'm not working). I love not waking up to an alarm, enjoying a leisurely cup of coffee, aimlessly flipping through the channels and spending the day/night with friends!
I saw this on one of my favorite (and fellow Charlestonian's!) blog, Before I Spend It and though I'd give it a whirl!
1. Favorite Color:
If I had to choose, I'd probably say green. From light to dark shades, I love them all. It also happens to be the color of my eyes.
2. Favorite food that you make:
Umm? I don't really cook? Bad wife, I know. Usually, I don't get home from work until much later than Mark. So, he usually has dinner ready for me. Very lucky!
3. Favorite Food Network Chef:
Hello, Ina Garten! AKA Barefoot Contessa. I LOVE her and her endless collection of denim button-ups. Also, how fab is her house in the Hamptons? I don't know how her husband, Jeffrey, isn't as big as a house. Everything about her is simple and classic.
'How easy is that?'
via
4. What is the last beauty product you bought, and are you liking it?:
I bought shampoo and conditioner from the new Trader Joe's last weekend and I have to be honest, it's terrible. Sorry, TJ's (
love
your wine selection though)! This makes my hair feel dry and like straw. Total impulse buy. I will not be getting again.
via
5. What are your top 3 beauty products:
MAC Superslick eyeliner- stays on forever and really defines your eyes. A word of caution that you must use eye makeup remover pads (I recommend MAC's). Otherwise, it's very tough to get completely off.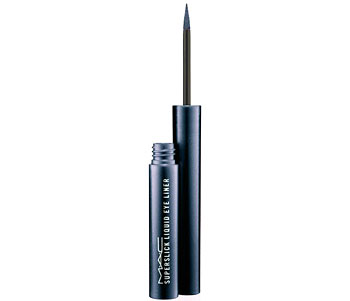 via
L'Oreal Sublime Bronze- because we all need a good self tan sometimes. This has a lightweight (and non-stinky) formula that you can apply and go on with your day. I've yet to have this transfer on to any of my clothing (bonus!).
via
Laura Mercier Tinted Moisturizer- Great coverage, great color. This is perfect for the summer, especially in climates where it feels like your face is literally going to melt off some days.
via
7. Essie or OPI?

I like both. I've been sporting a corally, red shade (by Revlon, I think?) on my toes for the past month or so. Hey, I'm a creature of habit!

8. How often do you workout?
I go to the gym 3-4 times a week, usually before work. Sometimes after if I'm too lazy to get up in the morning. My workouts consist of an hour of cardio (elliptical, treadmill, bike) with a few light weights thrown in.
9. Iced or hot coffee?
In the summer, iced. In the winter, hot. I've been making myself an iced coffee every morning for work. If I'm in the mood to splurge, I pick one up from Starbucks.
via
10. Favorite celebrity couple:
This is really tough. It's like asking a parent to choose their favorite child.
But, if I have to pick, it would be:
via
My mom, also a huge G & B fan, told me the other day she's afraid they're going to get divorced. Her words are still haunting me. I hope they don't go the way of Nick and Jessica.....
12. Place you have never been but would like to go:
via
Greece. Hopefully, we'll make it some day. But given my enormous fear of flying and general travel anxiety, I'm not sure it will happen. Maybe things will change??
13. What gift did you get from your wedding registry that you get the most use out of?:


14. Biggest pet peeve?
I guess I'd have to say bad drivers. They drive me cr-azy! And along those lines, sitting in traffic too.
15. Best guilty pleasure:
Reality television. As if there were any questions about it.
via
I've also been enjoying $1 ice cream cones from McDonald's lately. They're delicious. And $1. Win win.
16. Favorite book:
Recently, The Help. But, generally, I love historical fiction and the first book that comes to mind is The Other Boleyn Girl. Big fan of Philippa Gregory (the movie was not nearly as good as the book).
via
17. Do you subscribe to any magazines?:
No, but if I did it would be In Style, People, and US Weekly.

18. Favorite Halloween costume?:
I love Halloween, but don't really care about dressing up. I always appreciate something current and humorous though.
19. Drink of choice?:
Alcoholic- a good margarita (frozen, with salt)/ glass (or bottle) of champagne
Non-alcoholic- sweet tea. Although, 99% of time I drink water.
via
We celebrated with Veuve when Mark and I got engaged.
20. What advice would you give your 17 year old self?
Well, the older I get, the more I realize my parents were right. In nearly every situation. So, I guess I would tell myself to listen up! I'm sure they would have appreciated that piece of advice too. Ha! I was 17 ten (almost 11) years ago? What! Where does time go? I guess I also would have told myself to enjoy those carefree, essentially responsibility-free days!